WHY MARSALA?
What's so intriguing about this earthy, red brown shade that appealed to designers to select Marsala as Pantone's 2015 Color of the Year. Personally, I LOVE it! It feels warm, inviting and elegant.
Marsala is a subtly seductive shade, one that draws us in to its embracing warmth," Lee Eiseman, Executive Director of Pantone Color Institute's. Here's an in-depth look from on why Marsala was selected.
Long and sexy – stars are loving the color Marsala too.
The Knot presented an outstanding overview of 12 Ways to Use Marsala as a Wedding Color.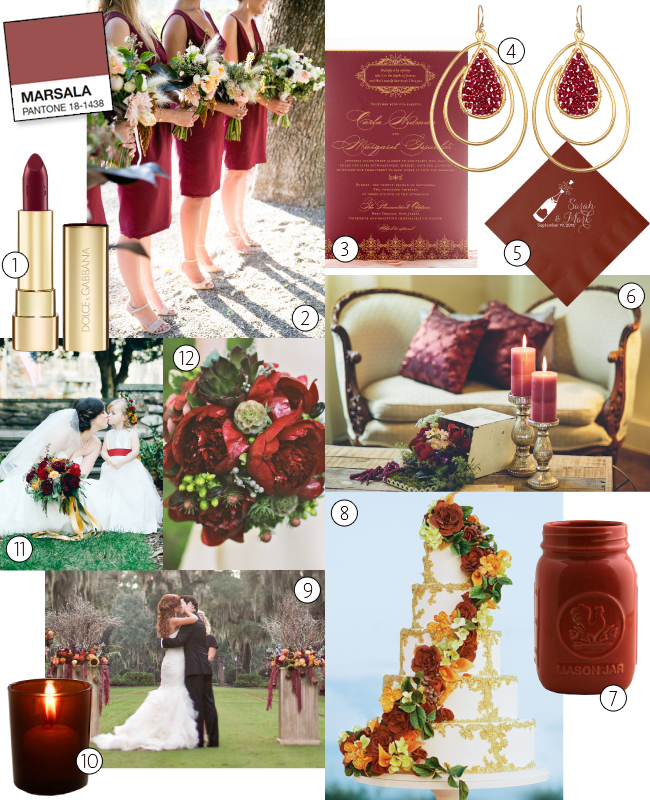 Source Photos clockwise from left: Larissa Cleveland Photography | Jeff Tissman Photography | Cyn Kain Photography | Hot Metal Studio | Todd White Photography |Jade and Matthew Take Pictures | Abby Jiu Photography
1. Marsala Lipstick
Dolce & Gabbana, The Lipstick Classic Cream Lipstick in Wine, Sephora.com
2. Marsala Bridesmaid Dresses
From the album: An Autumn Garden Wedding at Beltane Ranch in Glen Ellen, CA
3. Classic Marsala and Gold Wedding Invitation
From the album: A Pleasantdale Chateau Wedding in West Orange, NJ
4. Marsala Earrings
Wendy mink Garnet Roundel Earrings, CharmAndChain.com
5. Marsala and Gold Personalized Cocktail Napkins
Cocktail Napkins, from ForYourParty.com
6. Marsala and Ivory Wedding Lounge Space
From the album: A Romantic Post Card Inspired Shoot in Dripping Springs, TX
7. Rustic Marsala Mason Jar
Persimmon Mason Jar, WaitingOnMartha.com
8. A Marsala and Gold Cascade Wedding Cake
From the album: A Potomac View Terrace Wedding in Washington, DC
9. Marsala and Orange Wedding Ceremony Flowers
From the album: A Rich Autumn Wedding in Richmond Hill, GA
10. Marsala Votive Candle Holder
Dark Amber Votive, JamaliGarden.com
11. Marsala Flower Girl Flower Crown and Belt
From the album: A Traditional Wedding at Graylyn Estate in Winston-Salem, NC
12. A Peony and Succulent Marsala Bridal Bouquet
From the album: A Vintage Chic Wedding in Pittsburgh, PA
Sensational Events is Arizona's premier full-service wedding and event planning company, designing memorable events for discerning clients since 2001. With more than 30 years of experience, we are experts in the art of design, planning, production, logistics and budgeting. Sensational Events focuses on experience and innovation, not formula and routine. Anything from under the stars to on the links, intimate or grand, we offer the highest level of personal service. Our event planning team provides turn-key personalized coordination in all our divisions; weddings, mitzvahs, corporate, parties and destination events.
We invite you to contact us today to see how we can turn your event into a SENSATIONAL EXPERIENCE! Call 602-696-4646 or email us at [email protected].