PROUD TO BE AN AMERICAN!
I never really understood how strong of a statement this really is until I started working on the Patriot Day Celebration two years ago. It is much more powerful and impactful than one really knows. It comes from the heart, deep down in the soul. Now when I hear this statement I feel deeply connected because I know what these men and women are doing on our behalf to make all of us live the good life. I don't take it for granted and I hope you will look at the images and videos below and reach out to our military and service men and women and say THANK YOU because they need to know how much we love what they do on our behalf and our country.
On Saturday, September 10, 2011 Phoenix hosted two of the largest events in honor of the memory of those lives lost and in support of  those lives affected by September 11, 2001:
9-11 Honor Ride and 3rd Annual Patriot Day Celebration.
The day started bright and early at Sanderson Ford, who graciously offered to host the kick off of the 9-11 Honor Ride. The Patriot Guard Riders helped stage and coordinate more than 450 bikers and their parade of flags. After everyone got decked out in 9-11 Honor Ride t-shirts and ride pins they rode to Buddy Stubbs Anthem Harley-Davidson for a raffle prize stop! Thanks to the many businesses that provided these gifts. The last leg of their ride was an escorted ride to the event site, Paseo Highlands Park.  What an awesome site that was to see!
A very special thank you to my 9-11 Honor Ride key partners – and I mean PARTNERS because this event would not have been as successful or fun to work on without their support and energy (and our entertaining meetings)! Sanderson Ford, Buddy Stubbs Anthem Harley-Davidson, Patriot Guard Riders, KNIX, FOX NEWS 550 KFYI, Mike Broomhead, Law Tigers and The Logo Man! And finally, to the ASU students of the Special Event Planners Association who volunteered their time and talents – you rock!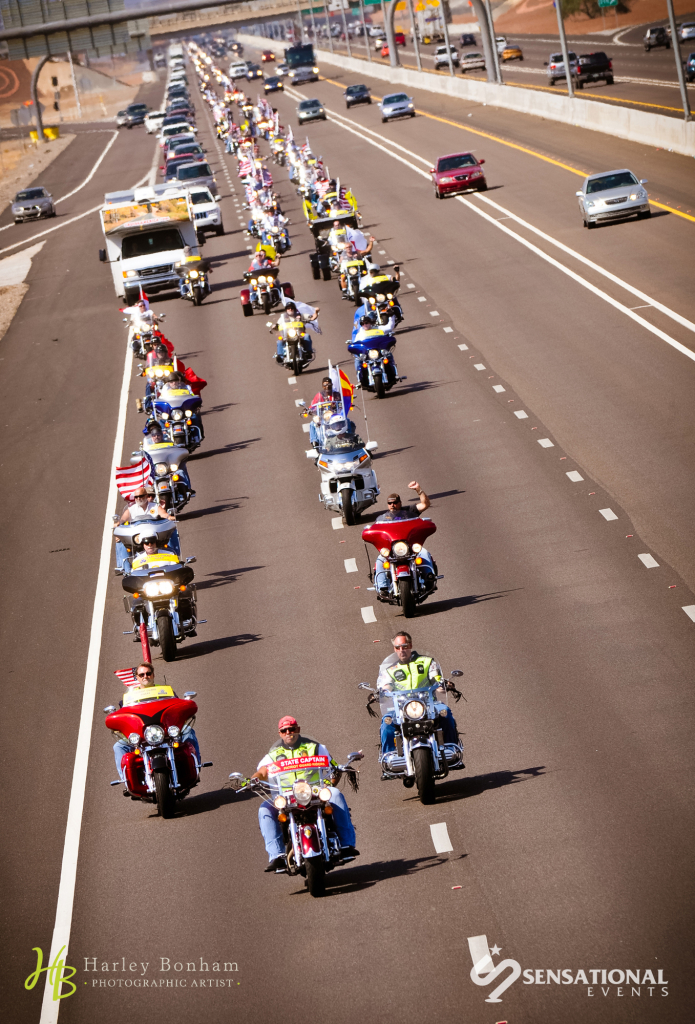 3RD ANNUAL PATRIOT DAY CELEBRATION HONORS 10TH ANNIVERSARY OF 9-11
Sensational Events and David Haddad, Fumar Cigars (Friends of Freedom), started working on this event in early November setting the stage for what ended up being the LARGEST 9-11 MEMORIAL CELEBRATION IN THE SOUTHWEST! More than 6,500 attended the day-long event and had the opportunity to experience many exciting things such as exploring four military helicopters and seeing them take off at the end of the day, Tony Orlando in concert (what a tremendous performer he is!), Governor Brewer, who ended up watched the entire Tony Orlando concert, and much more!
And, if you missed the Skype call with Ladder 3 it was a great YouTube moment. But seriously, thank you to Ladder 3 in NYC for spending time with our event on the 10th Anniversary so that we can show them how much we appreciate them and the sacrifices they made for us.
An event of this magnitude is only as strong as its partners (sponsors), so thank you to the Major Sponsors of the 3rd Annual Patriot Day Celebration: Sanderson Ford, American Airlines, Fairmont Scottsdale Princess, TriWest Healthcare Alliance, Tee It Up For The Troops, ArmedZilla, Fidelity National Title, Preferred Packaging, RV Rental, Buddy Stubbs Anthem Harley-Davidson, Ortiz Brothers Patio Furniture, H2O Concepts, Best Buy, Fender, Miller High Life, Four Peaks Brewery, Alliance Beverage, Pour Masters Bartending Services, FOX News 550 KFYI, KNIX Country, Cox Communications, The Arizona Republic, AZCentral.com, Arizona Color, Sensational Events and Fumar Cigars.
Personal thank you to the following for their involvement and commitment to the cause: Michael Venezia, Corinne Chapman, Phil Vandel, Jeff Senour, George Weisz, Leesa Morrison, Tom Hale and Jim Palmersheim, American Airlines Veterans Initiatives Director; and Bonnie Bauman.