"Without Amy and Sensational Events we wouldn't have had such an amazing wedding experience! With all of the coordination, communication, scheduling, budgeting, and organization planning a wedding can be a daunting task. Especially for two full time workers who wanted to have a kosher wedding.
"When Danielle and I were first engaged we knew that we wanted to make our wedding a once in a lifetime event. Getting the right help would be crucial in achieving this. When we met Amy we knew right away that she would be the one to plan this extraordinary occasion. Amy communicated and coordinated between all of the family members both local and out of town regarding the budget, events, guest lists, and overall timeline of the entire wedding. When we needed something to get done she was on top of it making phone calls, sending e-mails, and making home visits. Amy even helped surprise my wife by coordinating time for me to practice with the wedding band so that I could sing a song for my wife at the wedding.
"Amy orchestrated it all! Helping to pick out the venue, organizing the rehearsal dinner, choosing the invitations, the wedding band, the flowers, the food, the wedding cake, the table settings, the tablecloth. And all of it coordinated to perfection. Even after the wedding was over Amy kept in contact with us following up on wedding pictures, videography, and "Thank you" notes. Without Amy we couldn't have done it and we highly recommend her for your next special event!"   ~ Danielle Breslow and Benjamin Gross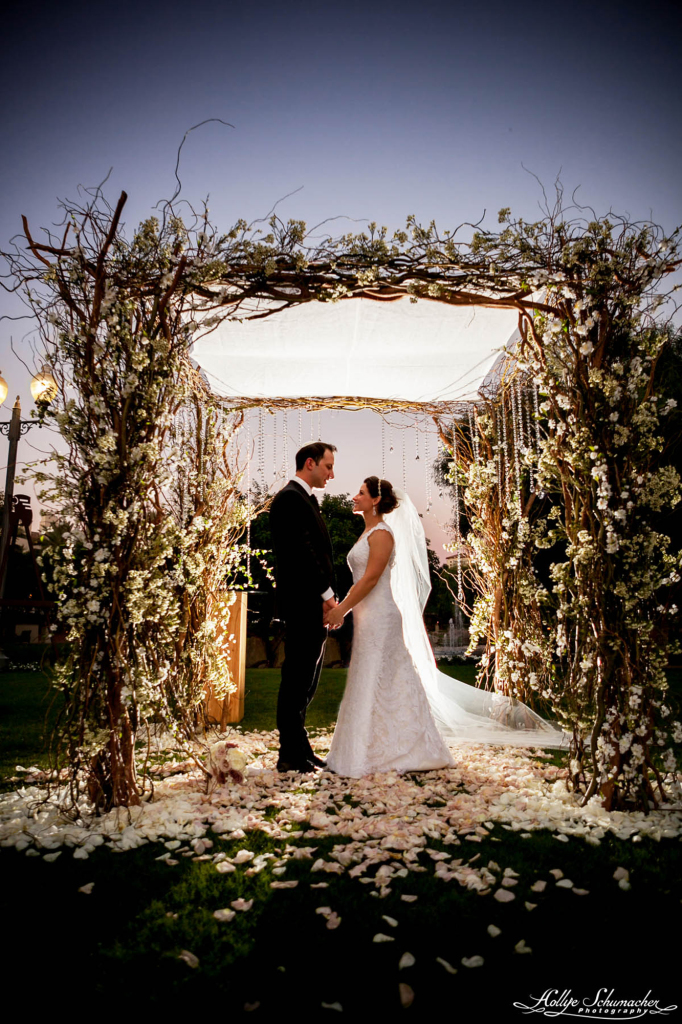 CONCEPT
Wedding Sophistication
INVITATION AND WEDDING DETAILS
IT'S ALL IN THE DETAILS and that is why my go to gal is Kim McDowell, The Event Essentials. Before anything is pen to paper, we develop several concepts to present to the Bride, Groom and Mother-Of-The Bride (MOB). It's our job to show them what they asked for but also give them our recommendations that elevate their ideas to a whole new level. Kim and I are big believers of branding so first and foremost we encourage the client to have a monogram for their wedding. This way all our details have that identity stamp. Details include Save The Dates, Wedding Program, Escort Cards, Reception Signage (Menu Cards, Table Numbers, Mr. and Mrs.), Weekend Itinerary and Thank You Notes.
STYLE
The weekend was a perfect harmony of colors. Friday Shabbat dinner was turquoise waye with ivory lamour napkins. At the Rehearsal Dinner on Saturday night, a southwest approach of honey paisley faux leather with an espresso underly and copper matte napkin rings made the look complete. The wedding color palette was spectacular golds, ivory and smoke purple.  The dining tables were picture perfect with a biscuit shantung underly topped with ivory calista lace and ivory lamour napkins. Our specialty tables (sweetheart and cake) were dramatic with a ivory shantung and heavenly dreams linen. And for Monday brunch, with such beautiful November Arizona weather we made our back east guests welcome with fire orange cirque linens and canary lamour napkins. Thanks to the keen eye and creativity of Laura Southwick, Southwick Linens.
FLORAL DÉCOR BY
Each event during the weekend had it's own look so Christine Siegel and her team at The Flower Studio took the look of the linens and created that signature  look. Shabbat Dinner coordinated a beautiful array of white flowers such as hydrangea, roses and cymbidium orchids with the surrounding trees decorated with specialty lanterns. Saturday Rehearsal dinner  kept with the Southwest look and had a gorgeous succulent garden as their centerpieces. The wedding as you can see from the pictures of the Chuppah and table centerpieces was perfection as its best! Rich purples, white, and ivory were captured in all wedding floral from the bouquet to the flower girls head pieces. I couldn't have imagined anyone but The Flower Studio creative this wedding fantasy.
PHOTOGRAPHY BY
Hollye Schumacher Photography – Thank you for being the amazing photographer you are and bringing these not only the people but the details to life!
VENUE
Fairmont Scottsdale Princess. Thank you to Sally Utley, catering sales manager, for her patience and assistance in coordinating this very busy Kosher weekend of events.
KOSHER CUISINE BY
Chef David Morris and Chef Ryan Staroszik of the Fairmont Scottsdale Princess
ENTERTAINMENT BY
The JJ's Band
EVENT ESSENTIALS
Every event needs rentals but it's WHO services your event that makes a huge difference in my world. Thanks to Deb Beggs and her amazing team at Classic Party Rentals for making sure my white dance sparkled, the chairs were perfect and the uplighting matched our color palette.
Sensational Events is Arizona's premier full-service wedding and event planning company, designing memorable events for discerning clients since 2001. With more than 30 years of experience, we are experts in the art of design, planning, production, logistics and budgeting. Sensational Events focuses on experience and innovation, not formula and routine. Anything from under the stars to on the links, intimate or grand, we offer the highest level of personal service. Our event planning team provides turn-key personalized coordination in all our divisions; weddings, mitzvahs, corporate, parties and destination events.
We invite you to contact us today to see how we can turn your event into a SENSATIONAL EXPERIENCE! Call 602-696-4646 or email us at [email protected].