Guilty Pleasures: Raspberry Chocolate Kiss Cocktail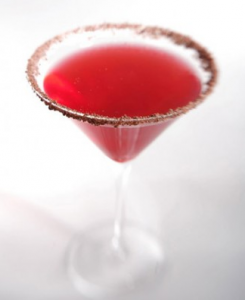 Martha Stewart shares with us chef Michael Schulson's Valentine Cocktail Recipe!
• 1/4 cup Mint-Infused Simple Syrup, plus more for rim
• 3 chocolate cookies, finely crushed, such as Nabisco Famous Wafers
• 10 raspberries
• 1/4 cup vodka
• 2 tablespoons cranberry juice
• Ice cubes
Fill a shallow dish with enough simple syrup to just cover the bottom. Place crushed cookies into another shallow dish. Invert a martini glass into simple syrup and then immediately into crushed cookies to coat the rim of the glass.
Place raspberries in a cocktail shaker; crush with a muddler. Add simple syrup and muddle again. Add vodka and cranberry juice; fill shaker with ice. Shake well until chilled. Strain into prepared martini glass. Serve immediately.